Fun on the go
NOTEBOOKS FROM THE FUTURE
BY-ROCKET BOOK
ROCKETBOOK WAVE
The Rocketbook Wave provides the freedom of a traditional pen and paper notebook, while instantly blasting your notes into the cloud using your smartphone.
When you use Pilot FriXion pens with the Wave notebook, you can erase your notes using your microwave oven and reuse your notebook. Available in 2 sizes - each book comes with one pen.
ROCKETBOOK EVERLAST
The Everlast notebook provides a classic pen and paper experience, yet is built for the digital age. Although it feels like a traditional notebook, the Everlast is endlessly reusable and connected to all of your favorite cloud services.
When you write using any pen from the Pilot Frixion line, your writing sticks to Everlast pages like regular paper. But add a drop of water… and the notebook erases like magic.
CLOUD CONNECTED
Image Processing
In an instant, the Rocketbook app crops and enhances each page so your digital notes are more crisp and vibrant than the real thing.
Cloud synchronization
Symbols at the bottom of each page allow you to send your notes to specific locations in the cloud services you already use.
1.Put pen to paper
Take notes.
Write a poem.
Solve an equation.
Draw a masterpiece.
It's your notebook.
2.Choose a destination
Connect your symbols to Google Drive, Evernote, Dropbox, OneDrive, OneNote, Slack, Box, iCloud, iMessage, or Email.
Tap Destinations, Change Destination, and sign in with your account.
Mark the symbol on the Rocketbook pages you'd like to send.
3.Scan your pages
Open the Rocketbook App on your mobile device.
Scan the pages you'd like to capture and send.
4.Blast your notes to the cloud
Your pages have reached their destination.
Share, print, archive.
ROCKETBOOK HELPS ME GIVE LIFE TO MY THOUGHTS.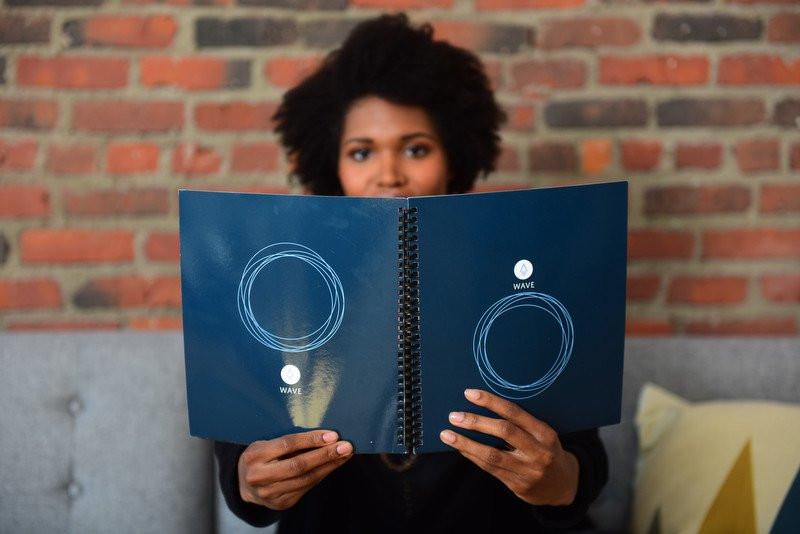 THIS NOTEBOOK HAS CHANGED THE WAY I WORK